PCIC analyses large datasets to identify High-Need, High-Cost (HNHC) patients of a system. This is done at the individual institution level or across multiple institutions through an overlap analysis. Additional information on PCIC's data analysis can be found here.
In addition to identifying and enrolling patients through data analysis, PCIC also has a referral program that enables our stakeholder and partner institutions to refer clients to PCIC through the referral program. Clients are required to meet the same criteria to be enrolled into the intervention program through a referral (i.e. 4+ hospital admissions per year, or 10+ ER visits per year, and 2+ chronic conditions).
On graduation, there is a warm handoff to the referring organization or the primary care physician of the client.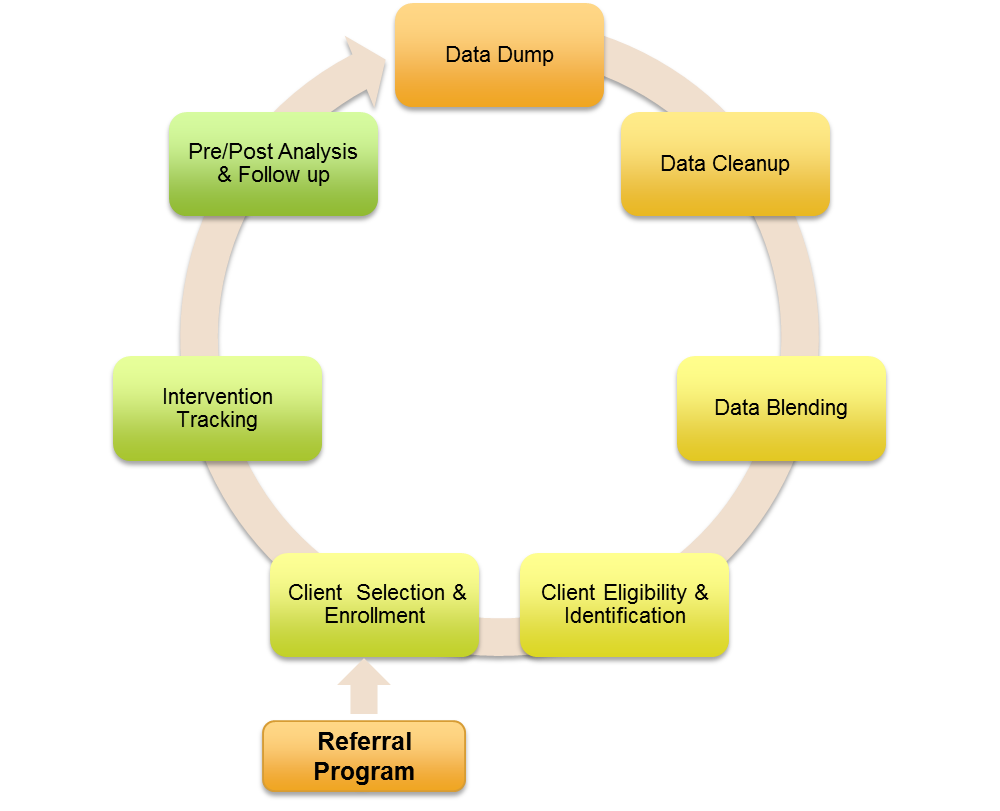 Most hospital systems in Houston and Harris County have their own frequenters program that usually deal with a large number of patients. PCIC is building relationships with these programs with a goal to create a true safety-net across systems. With over 6000 HNHC patients in Houston alone, it is impossible for any one program to provide care coordination services to this population. Our goal at PCIC is not to increase capacity but to connect the programs, and stratify the HNHC population by intensity of case management required. Programs like the HHS frequenters program work closely with PCIC in analyzing clients from both our HNHC patients lists, and handing off clients requiring high intensity case management to PCIC. Once we complete our intervention we hand the client back to the HHS program. This kind of a connected safety-net prevents clients being dropped off the program without a clear follow up plan.
Referral

System

PCIC is working on a referral system that is integrated into its Electronic Medical Record system to streamline the referral workflow. This will enable for easy handoff of clients between a stakeholder and PCIC as well as provide a secure communication and collaboration platform between organizations. Additional information on PCIC's referral system can be found

here

.